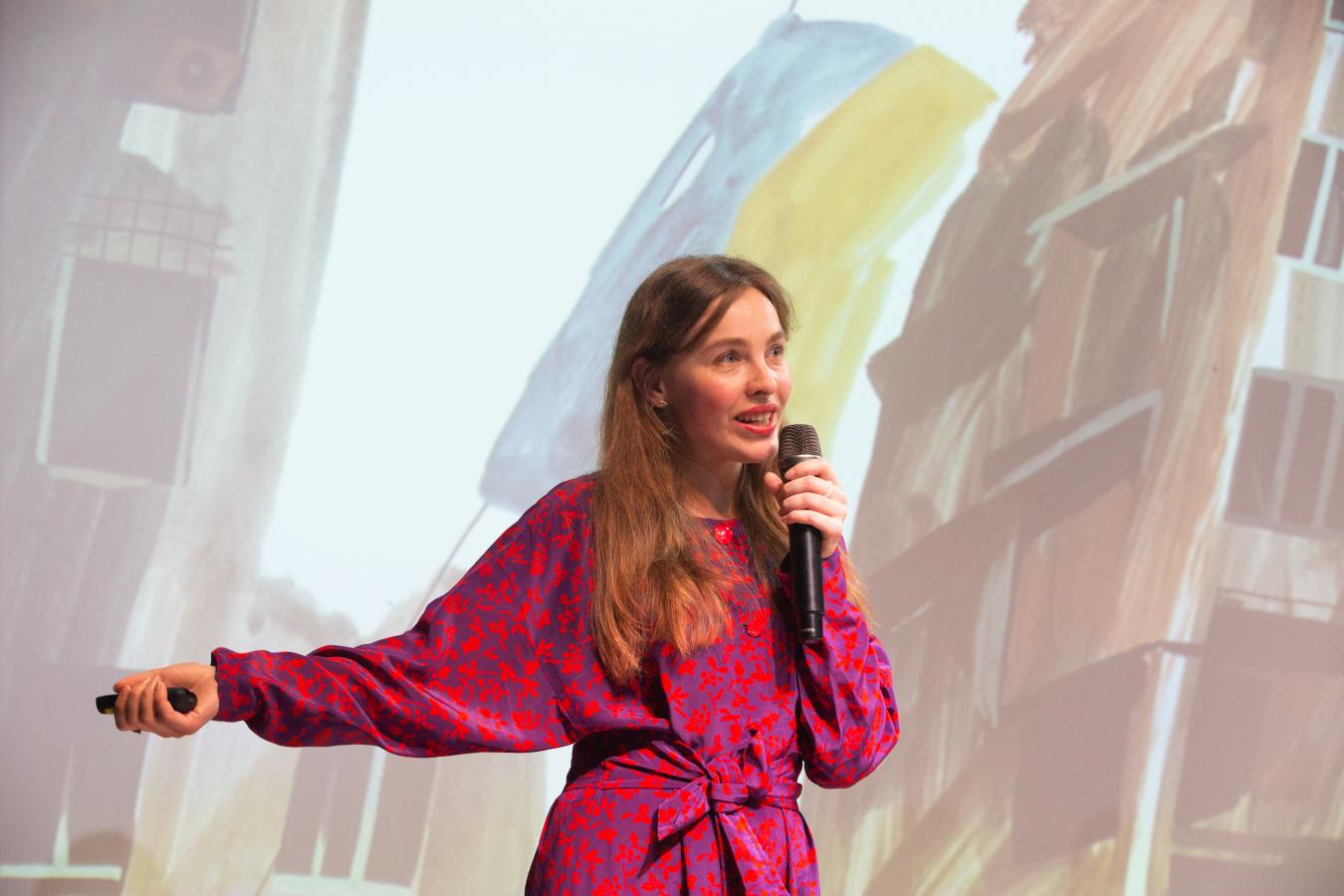 A symposium entitled Building Artists' Futures took place at the Helsinki Central Library Oodi in September. The event drew a large audience interested in learning how to help artists who are seeking refuge. The topics discussed ranged from building sustainable international support networks to finding ways to welcome displaced artists as part of local artist communities.
On 22 September 2022, a diverse group of European artists' union leaders, artists and people who work in the fields of visual arts and artist residencies came together at the Maijansali hall in the Helsinki Central Library Oodi to take part in the Building Artists' Futures – Strengthening Solidarity symposium.

The symposium was co-hosted by the International Artists Association Europe (IAA Europe), The Artists' Association of Finland and a-n The Artists Information Company. The event was hosted by artist Katriina Haikala. On behalf of IAA Europe president Andrea Křístek Kozárová and on behalf of AAF acting director Annu Kemppainen welcomed the audience.
The first speaker of the morning was Artists' Association of Finland chair Teemu Mäki. He talked about the different ways in which local artists' unions could support immigrant and refugee artists in becoming part of the local art community. Teemu Mäki suggested that artists' unions should make all key information available in English, promote affirmative action targeted at vulnerable groups and pay close attention to personal blind spots. He urged people to work for the equal treatment of foreign artists by society and to defend freedom of expression.
"Freedom of speech is not enough: you also need resources to speak and opportunities to be heard." – Teemu Mäki
Eglė Ganda Bogdanienė, chair of the Lithuanian Artists' Association, spoke under the title 2022 02 24. Muses are not silent. She described some of the practical ways Ukrainian artists have been supported in Lithuania through artist residencies, exhibitions and art sales, the proceeds from which have been channelled to Ukraine. She used examples from history to call Europeans to action today.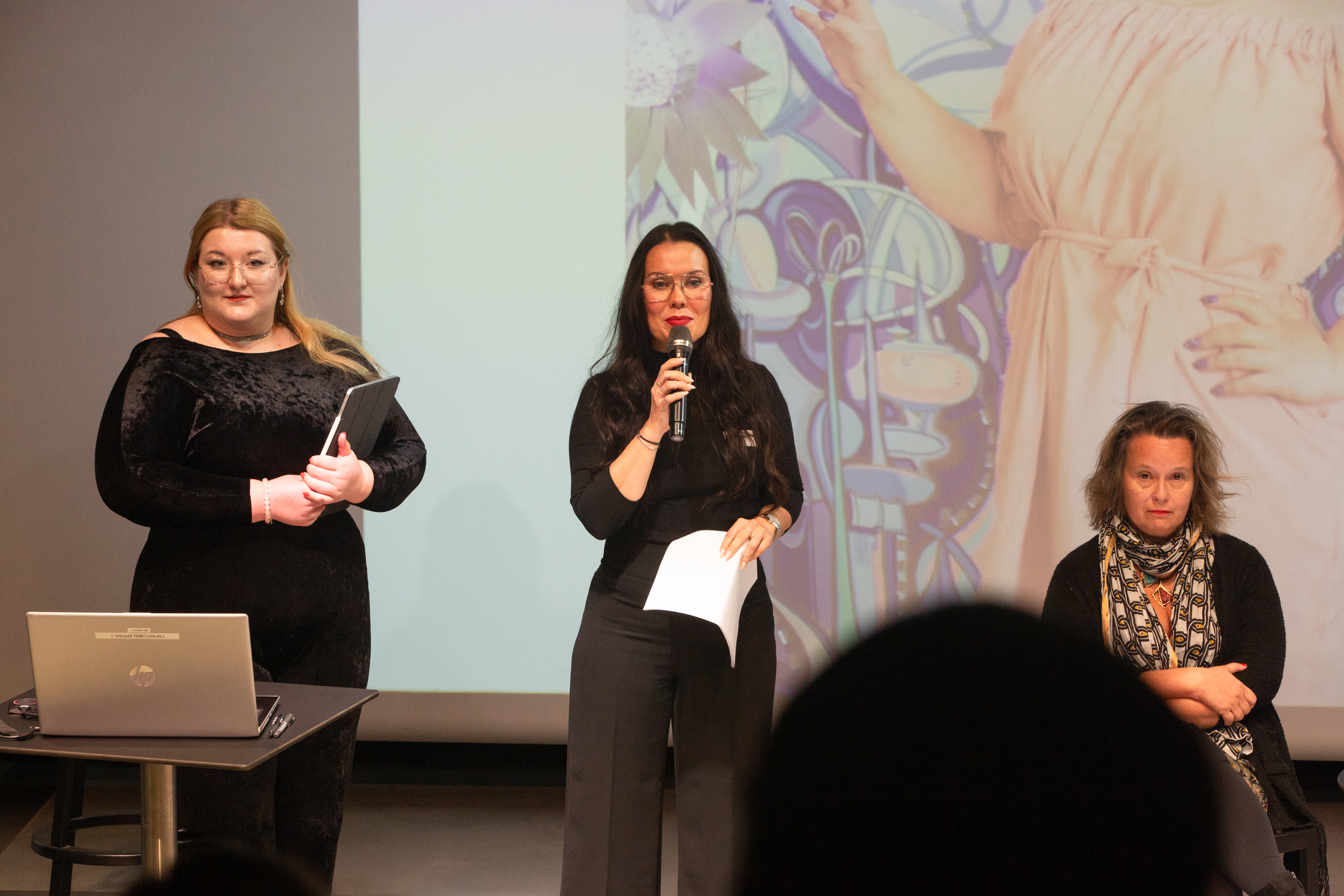 Marita Muukkonen, co-founder and co-director of Artists at Risk, gave a presentation on her organisation whose work is sorely needed in today's world. For nearly a decade, Artists at Risk has built an international network to assist artists who are at risk in their home countries or fleeing war or terror. Muukkonen told the audience that, prior to February, the Artists at Risk network included 26 residency locations. Since the Russian invasion of Ukraine, offers of help from art institutions quickly flooded in, and the network now includes over 500 host institutions that offer residencies to artists.
"After Russia attacked Ukraine brutally, for the first time since our work started in 2013, it was art institutions who were in contact with us before the artists. We witnessed a wave of solidarity." – Marita Muukkonen
The final speaker before the lunch break was Dextrum Methodo, an artist from Kharkiv currently in residence in Finland. For her, being able to seek refuge in Finland meant that she could continue her work at this very difficult time.
After the break, we heard a presentation by Jaana Denisova and Dana Neilson. The two discussed the work done by the Ukraine Solidarity Residencies network. This is a collaborative residency programme founded by Finnish art organisations to support Ukrainian artists. The network kick-started in March 2022, and it aims to provide solutions that are more long-term and flexible than traditional residencies and promote Ukrainian artists in Finland through organising exhibitions, for example. A total of 14 Ukrainian artists have come to Finland through the network this year.
One of these artists is Oksana Mykhanko, who is now in residence in the town of Korpo. The audience had a chance get a glimpse of her work before and after the invasion. Mykhanko's art shows her deep curiosity and passion for buildings, but now it also includes depictions of the destruction to buildings brought about by war. For her, buildings have always represented permanence, but even buildings are unable to resist the force of war.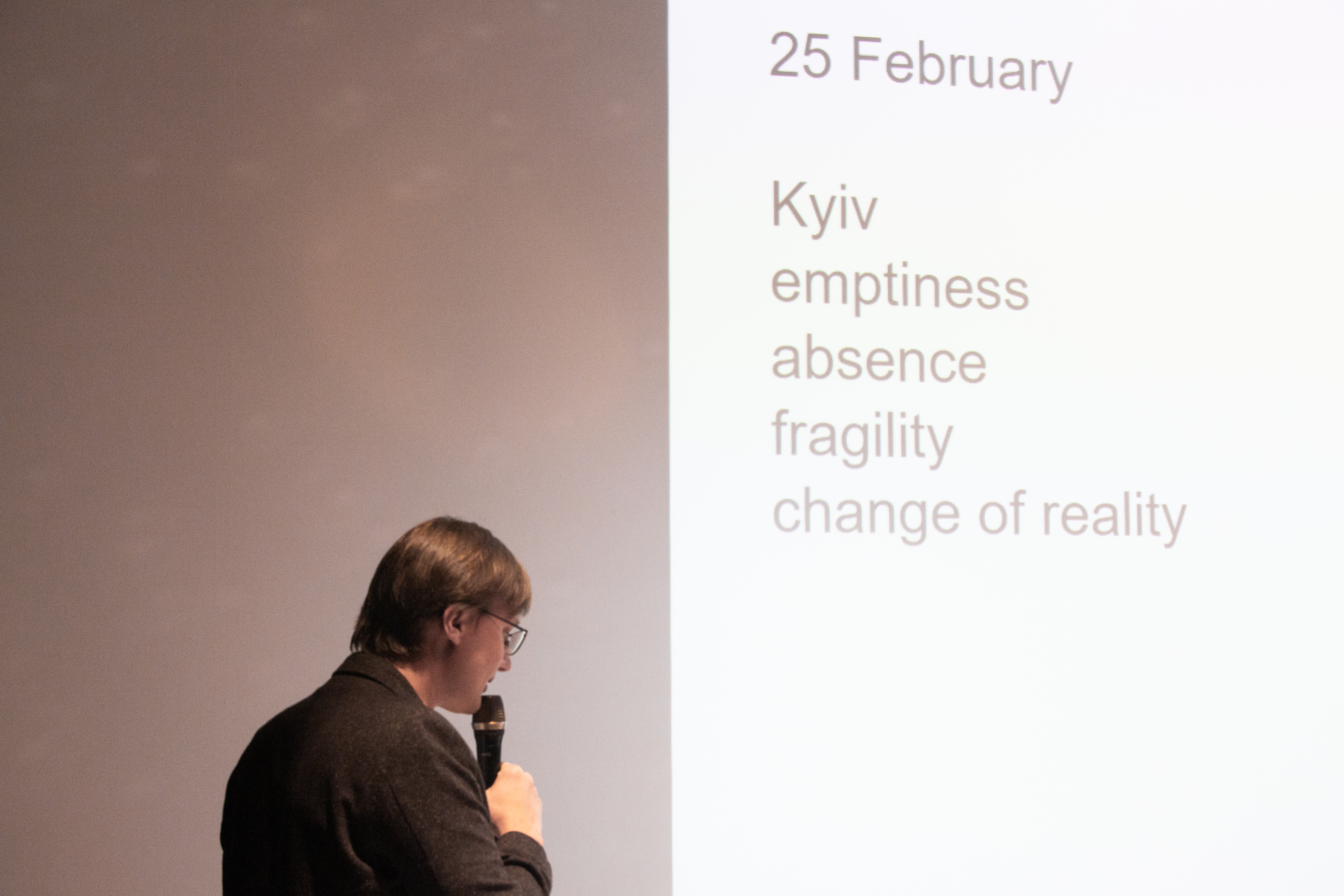 In the early morning of 24 February 2022, the Kyiv air was filled by the rattle of the wheels of the suitcases being pulled by fleeing people, accompanied by an eerie silence. This is how Ukrainian Ilya Zabolotnyi described to the audience the atmosphere that day. Zabolotnyi is the founder of Ukrainian Emergency Art Fund, which supports artists and art institutions still in Ukraine, channels international donations to recipients in Ukraine and promotes Ukrainian culture. He reminded everyone of the importance of supporting artists locally in conflict zones in addition to residency programmes elsewhere. Zabolotnyi also talked about the Wartime Art Archive project in which curators document war-themed works by Ukrainian artists in real time.
The final speaker of the day was Polly Brannan, the director of a free alternative art school, Open School East, located in Kent. She discussed how free art education can support the communities of immigrant and asylum-seeker artists and how art institutions need to find flexibility to implement their values in practice. The Open School East community has now been able to welcome its first Ukrainian artist.
In their closing words, Julie Lomax, CEO of a-n, and Teemu Mäki summed up the content of the event.
The atmosphere throughout the symposium was reflective, and the audience was active in taking part in the discussions. Representatives of the national committees of IAA (International Association of Art) Europe met each other for the first time since the beginning of the pandemic. All of Europe was present in one hall listening to the voice of Ukrainians and exploring practical ways to help artists keep safe and keep their freedom.